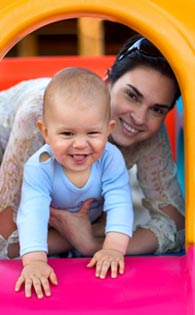 The Early Sprouts Philosophy
Early Sprouts, located in brownstone Brooklyn, has been supporting families of children with special needs for over 16 years. In October, 1991, we expanded our services to children between birth and three years of age.
Early Sprouts, our Early Intervention Program believes the family is the central part of the early intervention process. Therefore, our program is dedicated to work within a family-centered framework in a culturally sensitive manner.
All professionals working with a child and their parents are part of a team, which works together to address the desired outcomes on the Individual Family Service Plan.
Early Sprouts will not discriminate because of race, creed, color, national origin, sex, age, disability, marital status, sexual orientation or citizenship.